Anaesthesia Machine
---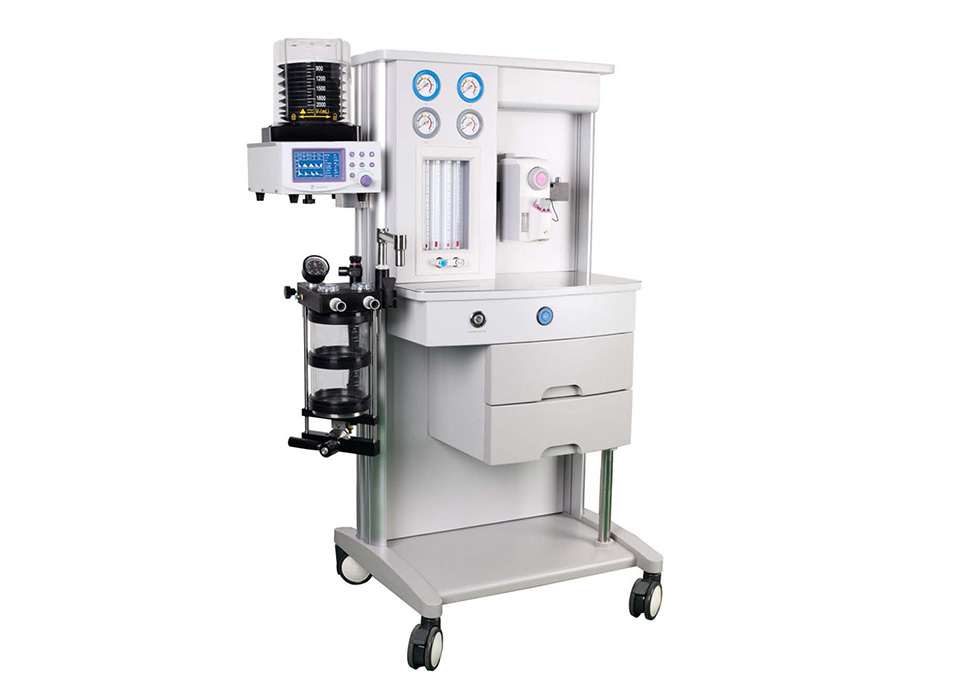 The most common type of anaesthetic machine in use in the developed world is the continuous-flow anaesthetic machine, which is designed to provide an accurate and continuous supply of medical gases (such as oxygen and nitrous oxide), mixed with an accurate concentration of anaesthetic vapour (such as isoflurane), and deliver this to the patient at a safe pressure and flow. Modern machines incorporate a ventilator, suction unit, and patient monitoring devices.
Feature :
Space saving compact design
Sturdy lightweight construction for easy manoeuvrability
Patient Type: Adult, Paediatric
Driven Mode: Pneumatically Driven, Electrically Controlled
Mode: Semi-Open, Semi-Closed or Closed System
Ventilator Display: 5.5" SNT Screen
O2/N2O Cascade Flowmeter
Pressure Gauges
Compact Circle Absorber System
4 x Anti Static Castors, 2 with brakes
2 Large Storage Drawes (1 with lock)
Internal Battery: DC 12V (2 hour battery back-up).
A PHP Error was encountered
Severity: Warning
Message: count(): Parameter must be an array or an object that implements Countable
Filename: views/detail_product.php
Line Number: 88
Backtrace:
File: /home/gsmedika.com/public_html/application/modules/product/views/detail_product.php
Line: 88
Function: _error_handler
File: /home/gsmedika.com/public_html/application/third_party/MX/Loader.php
Line: 357
Function: include
File: /home/gsmedika.com/public_html/application/third_party/MX/Loader.php
Line: 300
Function: _ci_load
File: /home/gsmedika.com/public_html/bonfire/libraries/Template.php
Line: 701
Function: view
File: /home/gsmedika.com/public_html/bonfire/libraries/Template.php
Line: 237
Function: load_view
File: /home/gsmedika.com/public_html/themes/default/product_detail.php
Line: 24
Function: content
File: /home/gsmedika.com/public_html/application/third_party/MX/Loader.php
Line: 357
Function: include
File: /home/gsmedika.com/public_html/bonfire/libraries/Template.php
Line: 823
Function: _ci_load
File: /home/gsmedika.com/public_html/bonfire/libraries/Template.php
Line: 673
Function: find_file
File: /home/gsmedika.com/public_html/bonfire/libraries/Template.php
Line: 208
Function: load_view
File: /home/gsmedika.com/public_html/application/modules/product/controllers/Product.php
Line: 159
Function: render
File: /home/gsmedika.com/public_html/index.php
Line: 309
Function: require_once
Lihat juga :
Encore 1250,
Encore 750,
Encore 2000,