Patient Warming System
---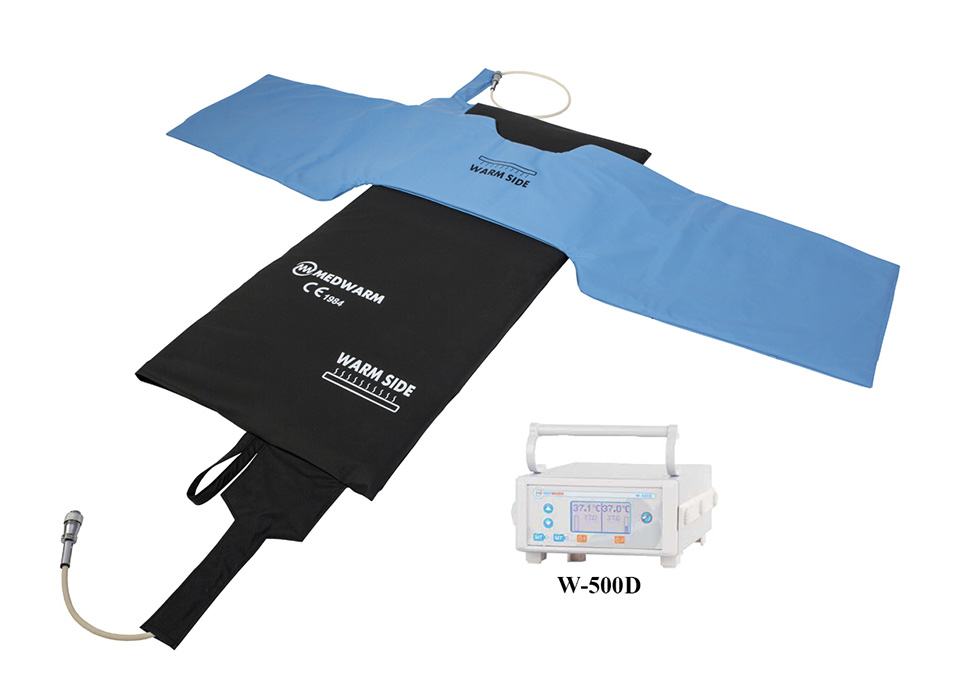 Medwarm products with models W500D is used patient with adult categories, Got warm from the mattress and blanket, to avoid hypothermia while in room with cooled temperature
Features:
* THE BEST HEATING PERFORMANCE:
Our mattresses and blankets can reach 37 C
within 5-7 minutes giving us a great advantage over competing products available in the market as well as providing the clinical personnel flexibility and ease of use during operation. The ability to set and manage the target warming temperature within 0.1'C increments also allows for additional sensitivity. (eg. 36.8°C , 37.3°C, 38.6°C etc.)
* HIGH LEVEL SAFETY:
Medwarm patient warming systems are installed witha DUAL SAFETY feature. Each system is controlled by two separate microprocessors; one available in the control unit and the other on the mattress/blanket card. These two micro processors control the heating system independently This way, even in the remote possibility that one of the micro processors fail, the other micro processor would act as a fail safe and protect the whole system from any kind of overheating. The maximum target temperature is set at 42'C and the heating process is cut off automatically once thereal temperature reaches this level. Each mattress and blanket contains up to 8-9 sensors which measure the real temperature at all times on the mattresses/
blankets and provide a completely safe temperature management system for all our products. Our portable test devices also provide extensive troubleshooting and testing abilities for our distributors and technical service personnel.

* COMFORTABLE AND EASY TO USE:
Through the viscoelastic foam used inside the warming mattresses, we prevent
decubitus ulcers which may occur on patients with prolonged stay during operations or recovery. Soft and lightweight blankets can easily cover the patient and provide a comfortable warming experience. Carbon fiber material used as the heating element in our mattresses and blankets allows for complete homogenous warming. Our systems work silently with digital LCD displays to adjust/view set and measured temperature values. All these features provide a highlevel of functionality and ease of use for the clinical personnel.